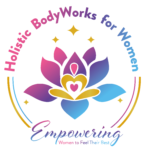 Holistic BodyWorks
is located Inside of
CMC's The Perfect Small Office Center – Turfway
"Shannon gave a nice overall relaxing massage. She had a good rapport and listened to what I requested to be worked on. She included pleasant additions to her session such as aromatherapy and hot towels for your neck while she worked on other body parts."
Sed porttitor lectus nibh. Vivamus magna justo, lacinia eget consectetur sed, convallis.
Our Policies
Holistic BodyWorks is a Professional Massage Therapy Environment for Women.
You may NOT be under the influence of alcohol or any mood-altering drugs. You may not be in possession of firearms or weapons of any kind and furthermore, any perceived sexual misconduct, comments, innuendo or inappropriate behavior will not be tolerated and will result in the immediate termination of the massage with payment expected in full.
No refunds will be issued.
Important Note:
This website and services are in no way intended to be, or a substitute for, professional medical advice and/or medical services. Furthermore, it is expressly noted that some massage therapy programs are not appropriate for individuals who have certain medical or health conditions.
YOU ARE STRICTLY RESPONSIBLE FOR SEEKING MEDICAL ADVICE FROM A PHYSICIAN PRIOR TO PARTICIPATING IN ANY MASSAGE THERAPY PROGRAM.